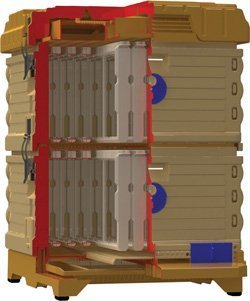 Inner Cover Type Top Feeder
Enables liquid (Syrup) or solid (Candy) feeding
Louvred Air Slots
Provides air circulation & prevents rain entering the hive
Round Bee Entrance
Rotating disc used for controlling access to the entrance of beehives.
Handy Frames
Easiest frames to work with wax foundation. Insert wax foundation and snap the frame in only 10 seconds.
Easy to clean material, in accordance with the Food Codex.
Entrance Reducer
The blue, yellow or green colored sliding gates on the entrance reducer feature extremely convenient opening and closing of the hive entrance. Bee flight entrances can be narrowed or enlarged depending on seasonal conditions. Can be easily closed shut for any journey.
Multi Functional Bottom Board
Equipped with pollen trap and tray, ventilation slots, and inspection tray for mites and beetles. The best solution for fighting small hive beetles.
Lock, Latch & Handles
Highly praised feature for easily fixing supers together, and easily carrying supers. Made from food grade stainless steel.
Queen Excluder
Features built in spacers to prevent excluder from sticking on the frames, and lets bees move comfortably.
Insulated Brood Box and Supers
Filled with special thermal insulation material providing R=6.93 insulation for the hive to keep the colony warm in the winter and cool in the summer.
The Ergo supers are interchangeable with wooden supers.
Hive Top Cover
Proivides thermal insulation. Durable, heavy duty, noiseless, fits to wooden supers, and can be latched to Apimaye supers.
Next Generation Bee Hive
Bees need a warm, secure, and dry place to live. In the wild, bees make their nest in variety of places such as hollow trees and holes in rocks. The Apimaye beehive was developed to make it easier to manage a colony of bees and produce more honey. There are lots of different hive designs throughout the world, which follow the same basic principles. The Apimaye hive systems are manufactured for worldwide distribution, using standard dimensions and assembly methods ensuring that the equipment will be interchangeable, strong and durable. The standard measurements are Langstroth and Dadant box sizes. The design of Apimaye bee hives provides simplicity and ease of operation, permitting rapid inspection and interchange of frames. Well-constructed equipment pays off in ease of management, and profitability.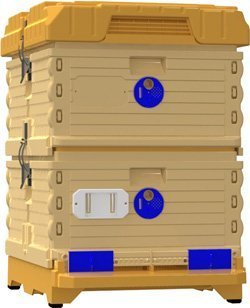 Thermo Hive System
The multi-purpose Apimaye Thermo Hives were developed by taking bee biology, physiology and behaviors into consideration. Requests from beekeepers, and different ecological characteristics were also considered during the design. Apimaye Thermo Hives implement a Colony Management System that enables rearing bees in a healthy environment, transporting them easily, and preventing potential harms such as suffocation and overheating during transportation.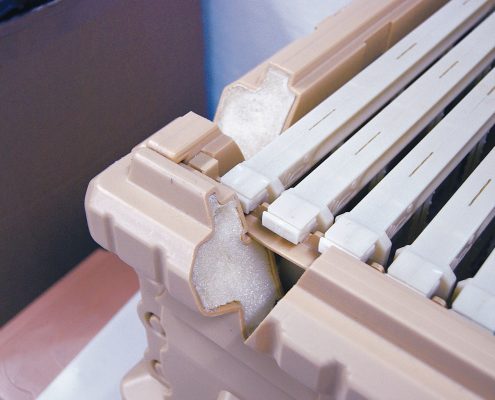 Thermal Insulation
&

Active Ventilation

The innovative all-round double layer insulation helps keeping the colony warm in the winter and cool in the summer. A special filling material used in the top cover and side walls of Thermo Hives provides thermal insulation, offering a suitable habitat for the colony in different climate conditions.

With the R value 6.93, Apimaye Thermo Bee Hives are more than 6 times more heat insulating than wooden hives.

The design of the hives allows the incoming air from the screened bottom board, rise all the way through the ventilation ducts, and exit through the louvres on the hive top cover. This enables an effective air circulation in the hive. The ventilation system prevents any rise of humidity in the hive, preventing any yeast or mold formation, increasing the survival of colonies during winter.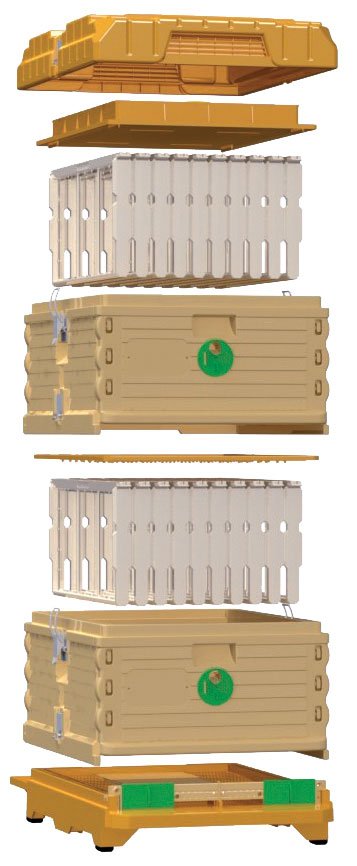 Everything in One Package
Apimaye Thermo Hives are designed and include several accessories as standard such as queen excluder, removable bottom tray (Traps Varroa mite and small hive beetle when used with a sticky board), pollen trap, multifunctional hive entrance, top feeder, lock and latch handles, handy frames, division & uniting board to provide all beekeepers needs and requirements.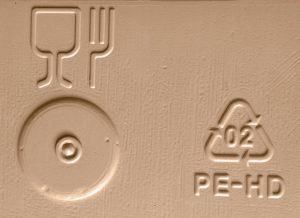 Bee Friendly Plastic
Apimaye Thermo Hives are manufactured from certified plastic (HDPE) in accordance with the Food Codex, directly colored without employing external paint, using plastic blow molding and injection molding technologies. The hives are manufactured with anti-static additives against dust formation. UV additives protect the hives against harmful sun rays, and prolong their service life.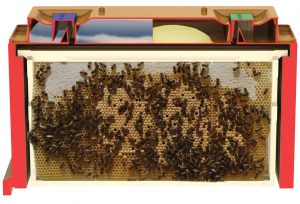 High Productivity
&

Long Economic Life

Apimaye hives are user and bee friendly. It is easy to clean the bottom board by removing the bottom tray. Bees spend less time to remove the debris. They consume less food, spend less time and energy to maintain the brood temperature. The bees consume less food in the winter and develop faster in the spring.

Apimaye Thermo Hives do not rot, warp, or absorb moisture, therefore their lifespan is longer and require much less maintenance. All Thermo Hives come fully assembled and ready to use. They do not need to be painted, nailed, or repaired. They can be washed with a pressure washer.

Apimaye bee hives are more resistant to normal wear and tear. Their average economic life is longer than other types of hives. Apimaye Thermo Hives prevent thousands of trees in our forests from being cut down for the purpose of making bee hives every year, and helps conserving the nature.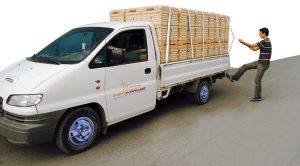 Easy to Transport
&

Easy to Clean

The brood box, supers and hive covers are latched together for easy transport. Handles on the brood box and deep supers provide easy lifting and transportation. The entrance reducer can be safely closed and locked, preventing the bees from entering or exiting the hive during transportation. The entrance can be reduced to prevent robbing. The screen bottom board, ventilation holes on the hive bodies and hive lids provide adequate ventilation during transportation, eliminating losses and colony collapses.

You can disinfect Apimaye Thermo BeeHives by using common disinfectants such as bleach, sodium hypo-chloride or soapy water if there is any contamination such as American foulbrood (AFB) or European foulbrood (EFB) diseases. After using disinfectants the hives need to be rinsed with water by using a pressure washer or just garden hose. Letting them dry under the sun will also kill the harmful bacteria.